HOW TO BECOME A BLOGGER
on
November 2, 2017
at
4:57 pm
HOW TO BECOME A BLOGGER
Meaning of Blog?
A blog simply means a website which contains a regular record of a writer/group of writers thoughts,experiences,observations and images including links that is uploaded to the internet for people to read.
How do you become a blogger?
To become a blogger is not an easy job,it required a lot of skills,knowledge and time to turn it into passion in full-time.Blogging is one of the easiest ways you can earn money online only if you are committed to working hard and learn how to do it properly then you can earn thousands of money easily on monthly blogging.You can also make it a professional business by being serious in your approach to making it a living blogging.
In order to become a full time blogger to earn a reliable income,there are many skills required.
1. WRITING
In writing,use a straight forward English,focus more on writing down your points of ideas and also write the way you speak to overcome insecurities.A good writer must make his/her topic clear,make your audience understand your topic by making it relatable.
2. SEARCH FOR ENGINE OPTIMIZATION(SEO)
You can search for engine optimization by knowing the keywords to focus on,choose the keyword that can get search often and always try to get more searches than others do.
3. MAKE BRAND ON YOUR BLOG
As we all know that branding is the key to making your blog,business and ideas success.The most important things to consider in branding your blog is Logo,Color and Font.
RULES IN BLOGGING TO AVOID TROUBLES
There are rules applicable to every blogger
1. Cite for quotes you read online by searching the name of the author,name of the blog and website where the quotes was gotten from before publishing to your blog.
2. Ask for permission when you want to copy a word online,first ask for permission from the author before publishing it on your blog.
3. Play a nice role on your blog because the contents on your blog cannot be hidden and know which words to be used when addressing your audience and when to use it to avoid someone stumbling on your blog.
TO CREATE A BLOG
Here are steps that will guide you in creating a blog;
Step 1. Choose a Blogging Platform.
Step 2. Domain and Hosting
To buy a Domain name,Go to web cheap and check for available domains.
To buy a web hosting,Go to www.HostGastor.com and select a web hosting package.
N/B:Web Hosting means a place where your blog lives online,while Domain name is an address to your property.Go to Blue-host and register your domain and click once on Bluehost to install WordPress.
Step 3. Choose a theme/Design Your Blog
Step 4. Write a compelling content,Add post and pages.
Step 5. Promote and Grow your blog.
READY TO CREATE A BLOG
Step 1. Choose A Blogging Platform.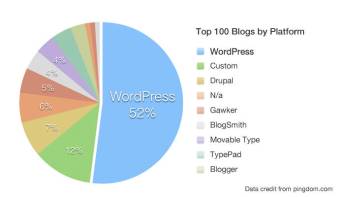 Before thinking of how your blog will look like,you will need to choose a platform and be able to create a blog with different blogging platforms e.g WordPress,Blogger and Tumblr,but the best platform is WordPress because it is easy to setup,customizable,free to use(including the layout,theme and Ad-ons)and it is secured.
Step 2. Find A Domain Name And Web Hosting
Finding a Domain name is your personal address where people can find you whenever they want to search for information on your page.For Example www.yourBlogName.com as in www.google.com Also in Web Hosting,it is the home of your blog address and you cannot use your domain name without web hosting.For example the computer hard drive that stores all images,contents and blog posts on your blog.
. To Get A Domain Name
Go to www.HostGator.com for both domain name and web hosting
. To Set Up Blog On Your Domain Name
* Go to www.HostGator.com and click on start your WordPress blog.
* Choose a blog name for your blog
To choose a domain name for your blog,you must choose a name that you can easily remember not a name you cannot remember,also use a name that will reflects who you are and your identity and try to avoid a crazy domain extensions like .mek",.zik" rather use a trustworthy domain extension e.g .org",.com".
* Type in the box the domain name you want to use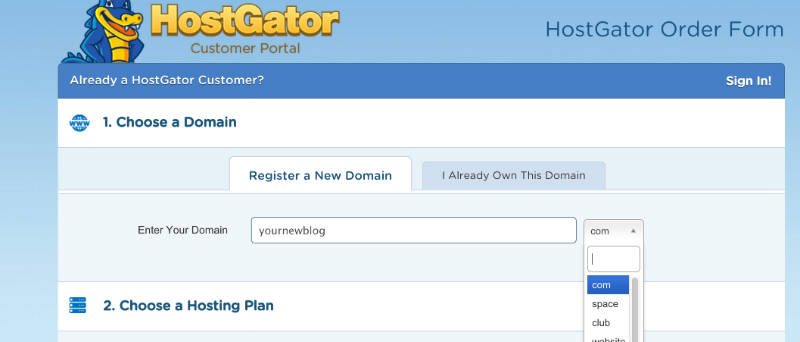 and click on "next",check if the name is available or not,if it is not available the HostGator will give you another alternative by choosing another name.And don't forget to end the domain name with .org", .com".
. Choose a blog hosting plan by selecting"Hatchling"plan which you can upgrade later if you wish to get more advanced features .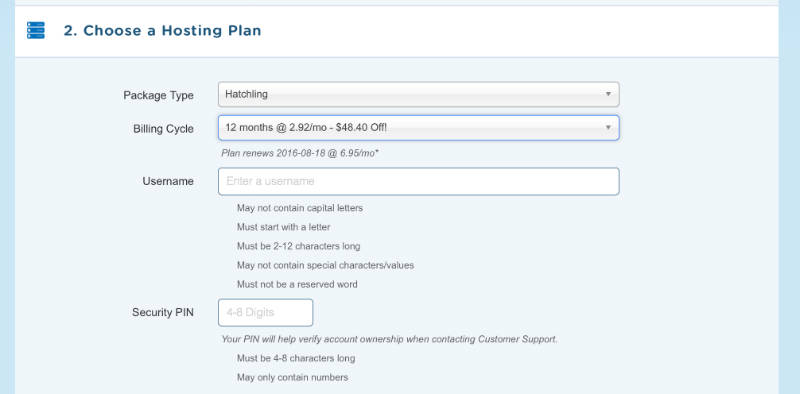 14. Set up the registration when you have selected the Hatchling plan and have found a name that is available,register it by putting it in your own contacts information.
* Log in to your new account to install WordPress blog
In this step,you will have to wait for some minutes for the HostGator to register your account,when your account is ready,you will get an e-mail confirmation code.
. Log on to the HostGator control panel,the information you needed are on your inbox.
. Click at the top on "Get Started With WordPress Today"
. If WordPress is not available,scroll down on the control panel and click on "Quick install", see at the top of the page in the left bar and once click on WordPress and it will be automatically changed to Mojomarketplace.com because it assist the HostGator to install blogging platforms like WordPress.
. Click on the "install" for the next step.
. While installation is still on progress,you will see when WordPress will be installed,if it is installed, you will see a Log-in Credentials.

* Log in and check your new blog.
. You will get an e-mail confirmation after your WordPress has been installed to share your log in information including Admin Url(only if notification bar is missed).
. To log in,click the Admin Url i.e www.YourBlogName.com/wp-Admin, the blog name there is the domain name you have set up already.

Step 3 .Design Your Blog/Choose A Theme
. Here,you can change your blog design,
. Install features and new Plugins and,
. Make your blog Search Engine Optimization(SEO)friendly.
* How do you change your blog design
. Log on to your blog by www.YourBlogName.com/wp-Admin, then you will see the dashboard like this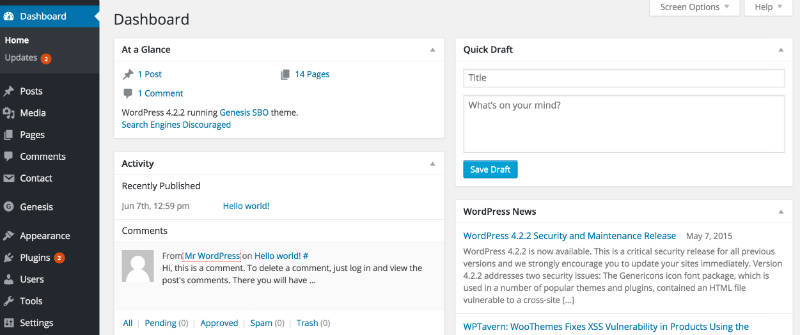 Drag your mouse to "Appearance" in the WordPress side bar,then click on Themes.There are several installed themes on the next screen,click on "Add New" at the top to search for themes.

. You will see the option tabs featured,Popular,Latest and Feature Filter.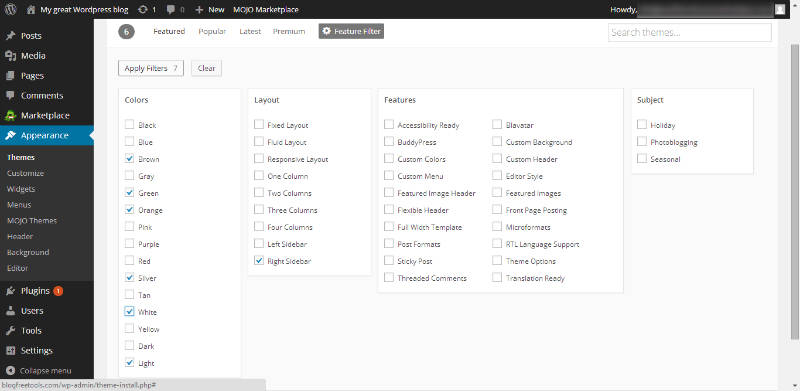 . Click on "Feature Filter" and choose any color in the option and choose a specific layout,then click on "Apply Filters" on the left bar side and click "Install"
. After you have installed the theme,click on "Activate".

Hit on the play button below to watch How To Start A Blog.
Step 4. Write a compelling contents,Add posts and Pages.
To write a content and add post and images in the WordPress,
* Open your new blog by www.YourBlogName.com/wp-Admin.
* Go to the Dashboard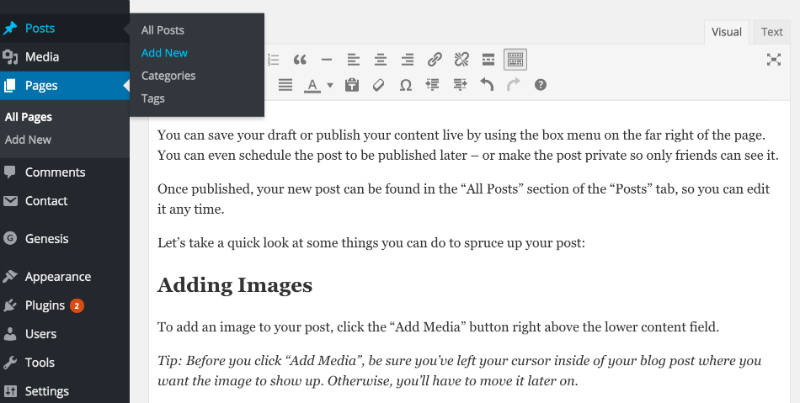 * Drag your mouse to the left side bar and click on post,you will see options;All Posts.Add new,Categories and Tags.
* Click on "Add New" the page will open like this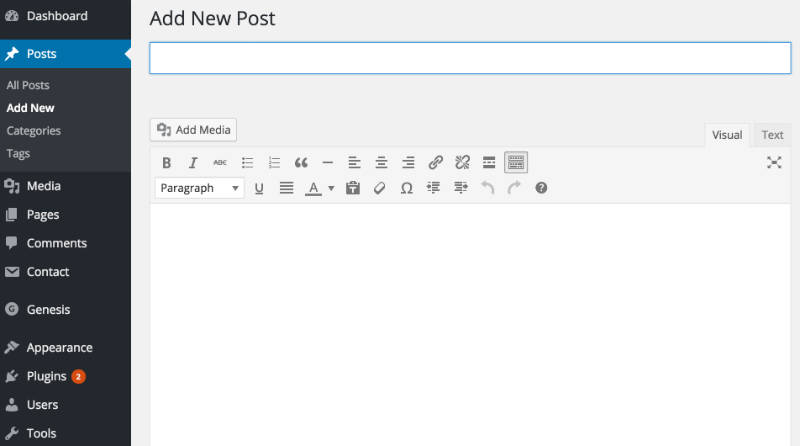 * Enter your title in the title box.
* Write down your contents in the box below.
To Add Images to a Post
In the content,
* Drag your cursor to where you want the to be.
* Click on "Add Media"
* You will see in the next screen "Upload Files and Media Library", Click on "Upload Files".
* Drag your mouse to "Insert from URL" in the left side bar.
* Search for the image in a new tab and copy the image link address.
* Paste it in the box and wait for the image to upload.
* When the upload is finished,Click on "Insert into post".
To Add a Link
To add a link address to music or video;
* Highlight the word you want to add the link to e.g Click here to download,highlight [here],
* Drag your mouse to the icon in the tool bar that looks like this,

* Click on the chain link ,
* Copy the link address of the music from the web where it is displayed,
* Paste it in the box on the word you highlighted.
* Here,the link address will display by itself in the URL box.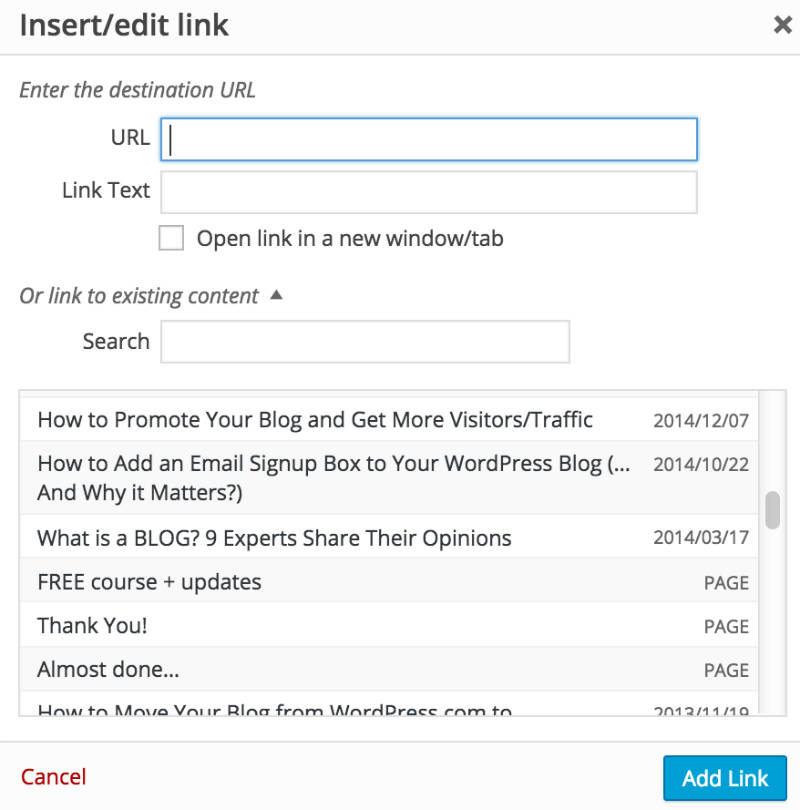 * Then drag your mouse to the small box [ ]open link in a new window.
* Tick in the box and drag your mouse to the down on the right side bar,you will see [update] and click on it.
To Publish
* On the screen,drag your mouse to the right side of the bar.
* Scroll to categories and click,
* If the title is not available,then click on + Add new category and type the title[name]e.g music then click the enter button and it will be ticked.
* Click Publish.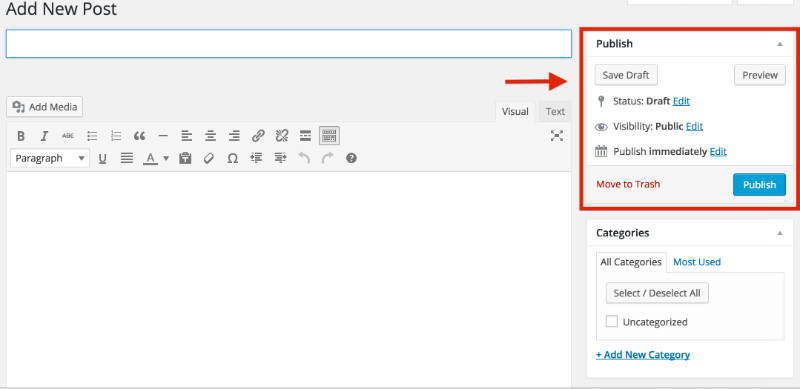 Step 5. Promote and Grow Your Blog
How do you promote or grow your blog
1. Publish more articles.
2. Write a longer content which may take your readers time to stay on your blog.
3. Improve your headlin.
4. Create a perfect page on your blog.
5. Add a contact page which your readers could contact you.
6. Share your post on social media like facebook,twitter,instagram etc.
7. Install google analytics because it is fast and easy and will also make your blog a better one.
8. Comment on other blogs so that readers from that blog will view your blog.
9. Pay people to write for you.
10. Create an app for your blog and submit to Google app,this will attract your readers to download your app and on some other relevant app sites.
11. Don't take a passive approach to blogging,once you have publish your article,wait and allow traffic to come.
12. Pomote your blog on Pinterest.
13. Advertise on reddit because it is one the biggest online communities.
14. Promote in a creative way by restricting part of your content and making people sahre your article and accesss it.
15. Create a personal website Plugins.
16. Blogging about a major personality.
17. Submit your content to blogging communities.
18. Avoid overuse of keywords.
19. Create a mailing list.
20. Be consistent.